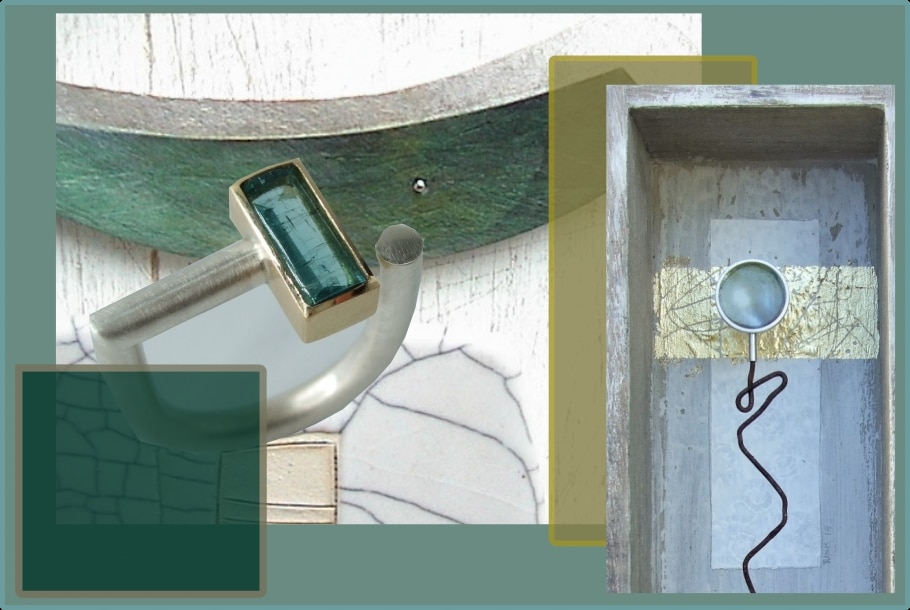 Creative journey – from scrap yard to jewellery
Why does a jewellery artist pick up a piece of rusty iron, an old shard, or a weathered piece of wood?
Petra Rink is a goldsmith artist who has mastered many facets of jewellery making. When she finds a special piece of waste, she embarks on an exciting creative journey leading into her personal jewellery boxes. 
'Waste' such as a rusty piece of iron, a piece of porcelain, a weathered wood, bent wires or a stone from the beach, parts of her work drawings, colourfully painted acryl glass shapes or finely sawn and gilded metal elements. They are arranged, assembled, glued, and soldered by Petra until they become an exceptional piece of jewellery in a small case.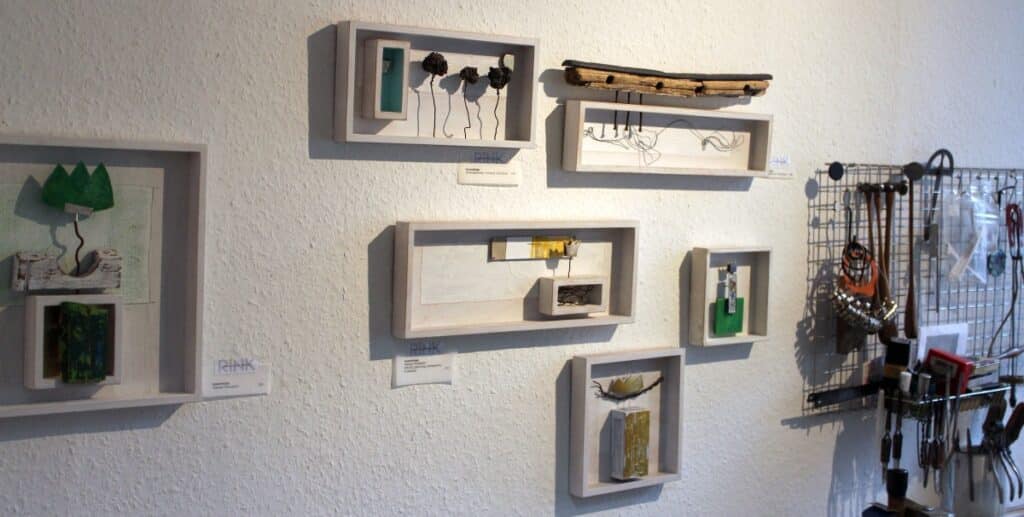 "Often, I have a story in my mind that I want to express with the arrangement of my found and special designed elements. I have to look through my collection and touch the 'waste' pieces a few times until I know – this is the right object that fits my story."
Why is a goldsmith giving a workshop at a Craft College in Tunisia?
In May 2006, 2007, and 2008 Petra teaches at the "Centre Arts Du Feu" in Nabeul and at the "Centre De Bijouterie" in Tunis. Her students are part of the ceramics, jewellery, and glass classes. The project is financed by the official German Agency for Technical Cooperation GTZ.
"The GTZ director at the time was impressed by my creative approach to explore materials.  He saw my artwork at one of my exhibitions in Stolberg and we started to talk about my jewellery boxes. It was nice that my family travelled with me. After teaching we – especially my sons – would enjoy the beach and the seaside. And I of course found interesting 'waste' pieces."
 "At the beginning of the workshop the students were a bit overwhelmed with the new idea of using materials in a playful way. I found the weathered broken wood board on the school beach and spontaneously used it to capture my impression of Tunisia in this assemblage. That explained the creative way of the process to them. After that, they started their own exciting journey."
"Back in Germany I used some found objects for my special Jewel box series: 'Fish and Ships', inspired by my impressions on the beach of Tunisia."
The first steps towards becoming a jewellery artist.
Petra completes her 3-year apprenticeship to become a goldsmith with her father, a master goldsmith who works for a high-end jewellery company in Düsseldorf. He still worked entirely in the tradition and absolute perfection of the craft. A great way to start off but it is important for Petra to continue her education and discover new areas and possibilities of her profession.
Petra applies for her master craftswoman training at the renowned Crafts College in Hanau as well as starting her jewellery design studies there.  The teachers give the students an exciting insight into art, design, and architecture. Through Franz Bette, she becomes acquainted with the kinetic jewellery works of Friedrich Becker. The students experiment with unusual materials during their class of sculptural studies which leads to many exciting discussions among the students – not only at school.
Alone in a workshop?  How to have fruitful discussion with other creatives?
After her studies in Hanau, Petra applies for the 'arts and craft' program of a small German town. The city administration wants to revive the old workshop quarter below the medieval castle offering studios and flats to selected artists. From 1993-2008 she lives and works there as an independent artist. She becomes a member of the 'Forum for Jewellery and Design' in Cologne. The association initiates regular group exhibitions, offers workshops, art trips and much more. The exchange with other members, the tips and information are important for her work as a self-employed artist.
In the Corona Lockdown times, she learns about grants and subsidies that help her financially to bridge the difficult time without direct contact to her clients.
Since 2008, she has her workshop and gallery in a small countryside village near the city of Aachen. Here she initiates regular exhibition where she invites other artists and craftswomen, sharing a creative theme.
"Last year our theme was '3 Colours Green'. Wonderful natural shades of green lit up my gallery – seen in the work of a graphic designer& painter, a textile artist, and within my jewelleries & 'jewel boxes."
The next group exhibition will be in December 2022 – this time in Aachen. That's where Petra will soon be living and working.
What inspires you – apart from your goldsmith work?

"I am very much inspired by the 'Deconstructive' architecture style since  I visited the Vitra Museum by Frank Gehry in the early 90s. The dynamics of irregular shapes and proportions, unusual insights and views are exciting sources of inspiration for me. Since that time, this architectural style has accompanied me. At the beginning of 2020, I visited Zaha Hadid's Harbour House in Antwerp and was thrilled. The next Zaha Hadid building I will explore is the Maxxi Museum in Rome with the special exhibition 'Good News _ Women in Architecture'."
What do you like to achieve in the next years?
"I would like to live and work in England or America for some time. So that I get to know the country and the people on a regular daily life schedule – not just as a vacationer. I love to get an insight into their kind of craftsmanship on site and to exchange ideas with local artists. I want to try out something new that I haven't done before. I am sure that I will find some special 'waste' pieces there too!"
Like this river pearl mussel, which existed everywhere in Europe and is now threatened with extinction. Very few pearl mussels are left in a little stream close to Petra's house – due to polluted waters even in the countryside. Petra's jewel pieces make us aware of the beauty and uniqueness as well as the disappearance.
Name: Petra Rink
---
She is:
A master goldsmith and a jewellery artist
---
She likes:
early in the morning to have a cup of coffe on her own, France and the Museumsisland Hombroich, Neuss, Germany
---
She admires:
Women in general who go their own way undeterred: self-confident, curious and with a sense of humour
---
Her WIASOLA tip:
"Seek the exchange with other creatives and enjoy the enrichment!"
---
Her 5 favourite music tips:
Fat Freddys Drop – from New Zealand
Habib Koité – from Mali
ZAZ – from France
Pongo – from Angola/Portugal
Radio Cosmo – a german multi cultural radio station with the 50/50 obligation to play music from female artists
---