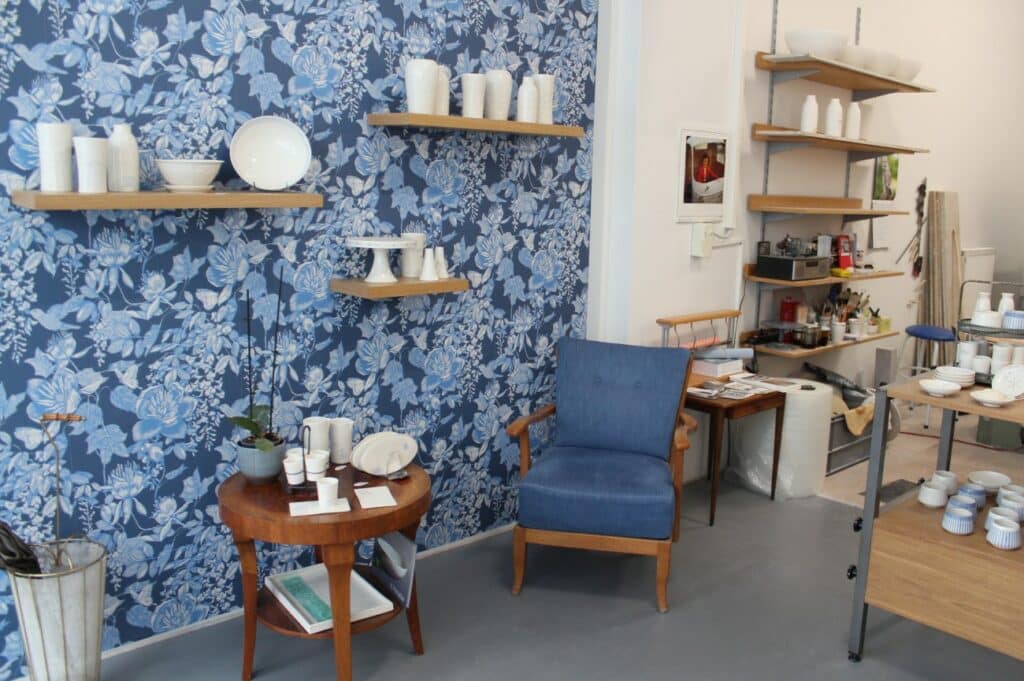 The dream of an own workshop and showroom
How happy and satisfied can 40 m2 of presentation and working space make a ceramicist?
On this subject, the face of Ines Lang a ceramist in Cologne takes on an almost blissful expression.
"I have always dreamed of having my own showroom and workshop combined – ever since I graduated as a ceramist. In August 2020, the time had finally come. During the renovation of the premises, I used my hands in a different way for a change: to plaster walls, paint, lay linoleum and to stick my exciting wallpaper on the wall. I can't even remember how many wallpaper books I looked through before I found this inspiring pattern with the perfect blue and cream shade of my own glaze and porcelain paint."
That is certainly one of Ines' talents: patience and persistence and knowing that what takes a long time will be good in the end!
Manual work – what does that mean for a ceramist?
"It's just nice to make something with my own hands and to watch how I can turn a lump of clay into something – a bowl, for example. During the entire working process, I always use my hands – and very few tools. At the end of the week, when I take the finished bowl back into my hands and put it in my shop window to sell, it is very fulfilling for me."
Fascination of earth and fire.
Already at the age of 17, Ines knows that she wants to do something with her hands. She leaves school and her Swabian home village and begins her training as an apprentice for ceramic in Tübingen, Germany.
"As a child, I always liked to 'fiddle' and 'fire' with my hands – shaping something out of clayey earth, putting it in the fire and seeing how something else emerges – I always found that fascinating. At the pottery classes in the youth centre, I started to model with real clay"
But making the leap from the classroom to a physically demanding 8-hour workday pushes her limits. The sense of achievement in turning the vessels is absent in the first few months. What looks so easy during a visit to a ceramics workshop in Denmark leads to uneven and crooked ceramics when sitting at her potter's wheel.
"At the beginning of my training, I had to throw my practice pieces into the waste bin at the end of the day. My master craftswoman Heike Bühner-Erdmann explained to us how mistakes occur and motivated us to keep going. She often stood next to me and guided my hands so that I got a feeling for the movement when throwing my ceramic pieces".
One advantage for Ines is that she already has a skilled eye for proportions and the evenness of shapes. In her childhood, her mother, who is a painter, often takes her to museums and galleries, thus training her senses and perception.
Technical knowledge and craftsmanship
After her 3 years apprenticeship her master cannot give her an employment. Even the quite low salary is too much of a burden on her small workshop. Ines works in an industrial laundry for six months and realises that she wants to further her ceramist education in order to better realise her own ideas. She applies to the ceramics craft college in Höhr-Grenzhausen for a 3-year course to become a ceramics designer. In the theoretical subjects she learns a lot about the nature of materials and what can be achieved with different firing techniques. Subjects such as technical drawing, art history, aesthetic perception and design are further building blocks for the realisation of her creative designs.
"When I drink tea from my bowl in the morning and see how the light falls through the translucent porcelain, it makes me very content."
To twist and pull the vessel wall so finely that it doesn't break during firing, that requires absolute perfection of technique. 
 "I know that I am very good because of my age and experience. I have felt the shapes of my ceramics so many times that my body has stored this tactile experience. When I start a series of for example bowls than I almost automatically through the bowls after the 5th piece. I get into a FLOW that makes me happy and satisfied."
Light porcelain – 'heavy' start!
After her 6-year vocational training, she moves to Cologne. To be able to pre-finance her own work as a self-employed ceramist, she works as a waitress. Often, she is too tired to work at her potter's wheel in a group workshop. This is not the working day she dreamed of. With the birth of her son, she gets a boost of motivation and a structured daily schedule. She rents her own workroom in the Cologne-Deutz Kunstwerk, sets up her kiln and workbenches and works on her porcelain series, which she sells at the various markets and fairs throughout the year.
"In the old factory building with my 20m² workroom, I led an almost eremitic existence. I only had contact with my customers at the exhibitions. Then the Corona Lockdown came along. At the beginning of 2020, I heard from an acquaintance that this workshop space would become available."
Ines is lucky: the rent fits into her budget and she does the renovation herself. Since the opening, she notices that the location of the shop in a lively part of Cologne also allows her to reach 'drop in' customers. This saves her the expensive rent for the exhibition stands. The time-consuming packing and unpacking of her fragile porcelain are also eliminated. She now perceives her work situation as much more relaxed.
What is your new dream now?
"I want to work on free objects again and give myself the time to try out something new. Looking through my sketchbooks and my photo collection, I realise that I still find many ideas exciting, and I have seen inspiring details again in the last few months at exhibitions and while walking in nature: Frog spawn in a pond, shapes of house facades, flower stalks or a fabric pattern in an old painting. A creative workshop with me and my ideas is the first step."
And there is the dream of a trip to Japan. The perfectionism and dedication of the Japanese masters to their work have long fascinated Ines. As a fan of Japanese feature films, she has an idea of the society and culture. But seeing everything up close, hiking in the mountains there, visit a Buddhist monastery – and eating many portions of her favourite Japanese food: noodle soup in all variations. 
This is different level of stimulating her senses and brings another happy smile to Ines' face.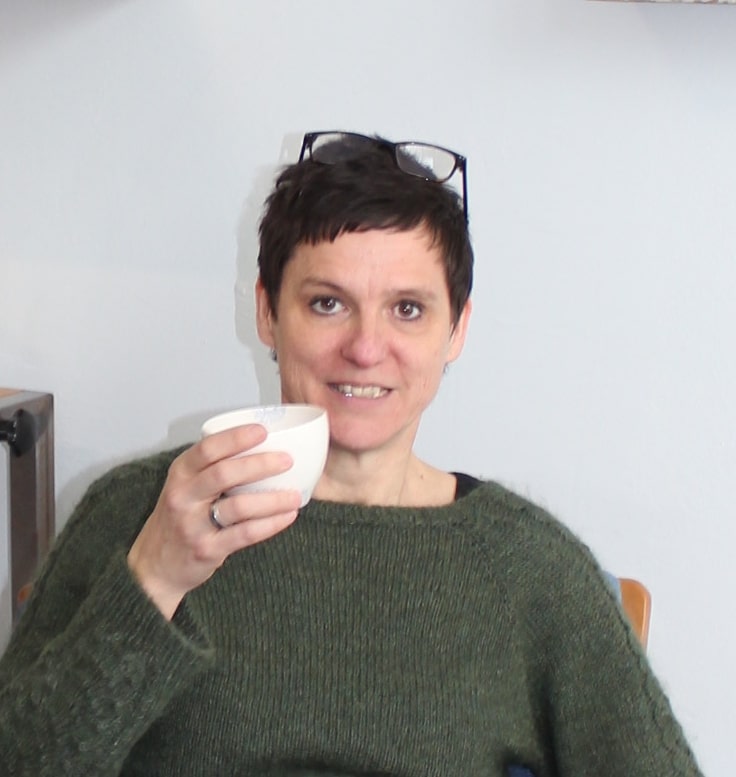 Name: Ines Lang
---
She is:
a ceramist
---
She likes:
a Cappuccino in the morning,  driving her scooter – September this year on Elba, to view the 'Cultures of the world' at the Rautenstrauch-Joest-Museum 
---
She admires:
Louise Bourgeois (artist) and Martha Cooper (photo journalist) and women, who assert themselves in typical male occupations
like: being a racing car driver or a fire woman 
---
Her WIASOLA Advice:
"Trust yourself, take a risk and don't meet the expectations of others."
---
Her 5 favourite songs:
Oscar Peterson 'Georgia on my mind' 
Celeste 'Hear my voice'  
Paolo Conte: 'Via con me' 
Dave Brubeck 'Take five'
Skunk Anansie 'Hedonism'
---
If you want to get an insight into the work process of Ines than have a look: