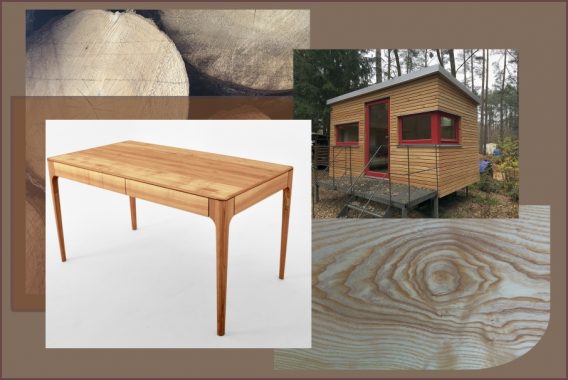 Experience wood with all your senses!
Why does a German carpenter decide to process air-dried wood into special furniture?
Jasmin Knedeisen's eyes light up at this question. With her concept as a carpenter to process local wood for her thoughtful designs, she finds a sought-after niche in her craft. With her motivation not to 'greenwash', she uses air-dried wood from the nearby countryside east of Berlin. Furthermore, she mixes her wood varnish from a local organic linseed oil giving her handmade furniture natural protection. She produces her furniture in a former engine factory in the East Berlin district 'Weißensee'. Now the industrial site hosts studios and craft shops for creative people.
Jasmin and her wood 'connection'
What is so special about air-dried wood? A log that can dry for many years preserves the history of this wood. Jasmin traces the DNA that each tree contains with her furniture pieces. Even the small idiosyncrasies of this wonderful natural material find a place in her designs. The slightly wavy edge sides of her coffee table show the trunk side of the wooden planks. The small wormholes tell us about a healthy ecosystem in which the ash has grown. The smell of the wood and the feel is much more intense than kiln-dried wood. Jasmine falls in love with the 'slow' wood after her first project using the air-dried ash.
'Wood love' at first sight!
Jasmin looks for the right wood for her journeywoman piece and finds 'her' air-dried Mecklenburg ash wood – a perfect match with her design. Her functional furniture with a simple and elegant design language secures her the 1st prize in the design competition 'Gute Form' in Berlin. Experiencing the fine smell of wood and oil, running your hand over the tabletop of the desk and following the special grain of the ash with your eyes – a feast for the senses and a tribute to the wonder of 'nature'.
How does an appreciation of nature become a motivator – also for work?
Jasmin's relationship with nature grows over the years. Not only through her sporting activities such as sport climbing or hiking, but also through work experiences. In a climbing lodge in Spain she also maintains the old garden. The motivation to work 'hands on' with a natural product is a reason to start the apprenticeship as a carpenter. After the 3-year course Jasmin fulfils her dream to live and work for 3 months in Iceland. A country that offers a unique landscape with special natural phenomena. Living in other countries has always appealed to her.
Architect and carpenter – what is my vocation?
This is an important question for Jasmin. She grows up in Berlin and it is clear to her that she wants to study after graduating from high school. An apprenticeship in a trade is out of question for her at this point, even though she comes from a family of craftsmen.
Law, journalism, and architecture were my favourites. It had to be creative. But I couldn't decide that at the age of 19. Therefore I spent 6 months as an au pair in London – giving myself some time out.
Jasmin experiences London as a European metropolis with significant architecture, high-rise buildings made of steel and glass. She gets to see the 'Brutalism' style from the 1970s, historic splendour buildings and other architectural styles. With this input, the decision to study architecture at the Technical University in Berlin is clear. Jasmin likes the discussion culture and relaxed atmosphere at the architectural department, but she is still in Berlin.
How is work as a junior architect?
After her BA degree, she continues her MA studies in the small town of Aachen. But there, the architecture professors embody exactly the image we have in our heads. Unapproachable – the 'creators' of large building sculptures.  Jasmin then enjoys an exchange year in Valencia in Spain with southern ease and modern architecture. After her graduation in Aachen, she starts working as in a regional famous architectural firm.
"As project manager, the deadlines for the competitions were constantly on my agenda. Of course, I also worked nights and weekends. What occupied my mind after 2 years was not the stressful work, but the fact that many competition submissions are never build or if they become reality than in a very much reduced version. Often the municipalities have a budget for the competition process, but they don't have money for the development plan and the realization."
Wood dust & machine noises instead of a fancy office floor?!
As an alternative to her work as an architect, Jasmin considers becoming a carpenter. The idea of combining the art of engineering with the art of designing a 'sculpture' can also be reflected in a piece of furniture. Jasmin is brave enough to go new ways in her early thirties. For this she receives respect and understanding. The German apprentice program includes practical training within a company as well as spending 2 days per week at a craft school. With her working experience Jasmin knows what she demands from her training company.  She wants to gain the best out of her apprenticeship years with the vision of her own 'wood sculpture' in mind.
"But then sitting in a classroom again as an adult woman, as an architect was a real challenge. In some subjects, I was overqualified due to my studies. It was good that I was able to work on real projects and furniture pieces within my company. In each project I was guided by a different carpenter. The work wasn't about speed, but about accuracy, noticing and using details in the wood."
My designs & my furniture
After receiving her official German craftsman ship degree Jasmin works as an employed carpenter. But the idea to design and produce her own furniture becomes more and more important. She develops her business concept. Key points are to use local air-dried wood and thus not to do any 'greenwashing'. To use timeless design and wood that is maintained with oil. A thoughtful ecological approach that allows her furniture to become pieces that can be passed down. Jasmin's style also contributes to this approach.
"A minimalist timeless design is my approach! Filigree & simple, in the direction of Scandinavian design. I take in consideration the use of the furniture, the wood and the customers. Therefore, there are no blanket solutions for me. A lot of things evolve during the process. In the design process for my desk, the shape came to me at night while dreaming. Ash was the wood I wanted to use. Through various contacts I found this amazing ash log and bought the complete planks. I also realized the small coffee table with some of the ash planks too. What is important to me is that a piece of furniture naturally finds its place in a home!"
Jasmin not only designs furniture. Her Tiny Guest House, made of spruce on the inside and larch on the outside with wooden windows from a local company, is an absolute living dream and the successful combination of both professions.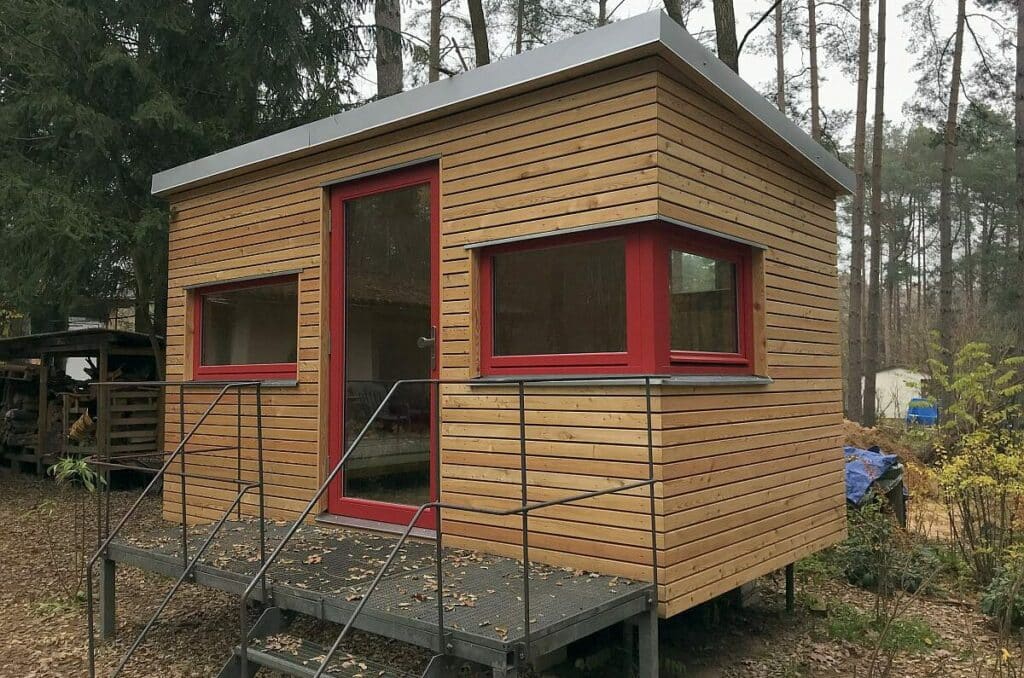 How to create a furniture piece?
Jasmin's customers trust her design know-how and her intuition for the right type of wood. This is how Jasmin creates exciting individual furniture pieces.
"My customers do not expect ready-made, digitally created models. I clarify technical details in my 2-D drawings. Sometimes I use a 3D model to check the proportions. This can also be a small cardboard model. In the process of 'designing and producing', that is when I go from the 2-dimensional drawing to the 3-dimensionality, something happens to my design, to the wood and also to me. This is so exciting now. This is what I love about my profession now."
The apple = the wood!
In carpentry jargon, Jasmin does not speak of 'apple wood' but of the apple. She sees the air-dried planks of the apple and knows right away: they are a perfect match for her design of a semi-oval wall table. The different structures, grains and color variations reflect the personality of the apple. The harmonious interplay results in something special. The owners now enjoy this unique piece – often 'touching' it.
First step: my own carpentry shop and now?
Jasmin is in the start-up phase of her business and uses various networking events to exchange ideas with other self-employed people. Knowing cross-trade craftspeople from the region and building a network are important points. Participation in the 'European Days of Crafts' as well as local design markets have generated a lot of interest in her designs. Her colleagues in the shared workshop give her also some support. Like: sometimes you have to be patient. More and more 'lovers' for your unique designs and approach will find you.
Happiness & costumers?
Her customers already appreciate the architect's approach in harmony with the expertise and skill of the carpenter. A craftswoman who understands the special whisper of wood.  With this intuition and her knowledge Jasmin creates a perfect furniture piece for them.  Her goals: timeless craftsmanship, expertise, precision & tracery show up in her pieces. After all, less is more!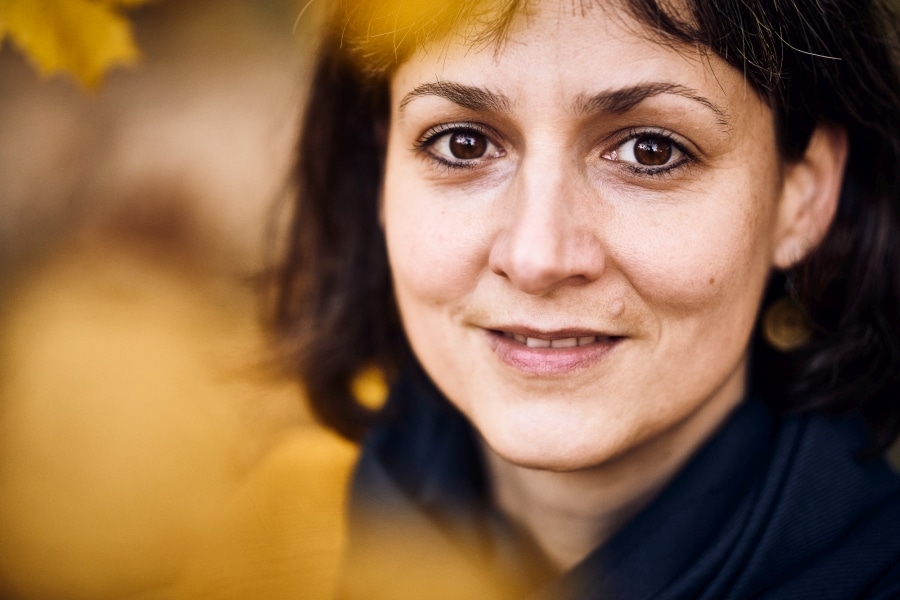 Name: Jasmin Knedeisen
---
She is:
German carpenter & Architect
---
To be found in:
 'Motorwerk'
An der Industriebahn 12–16
13088 Berlin
workshop 407 1/2 (blue door)
---
She likes:
Tea in the morning, good coffee later; gardening; swimming in the lake; paddling on my SUP; to be in nature; a cool drink on a mild summer evening; concerts; Dance; good food and nice conversations; and to do 'things' my way and at my pace
---
She would like to talk to:
The German politician Regine Hildebrandt who was involved in the 1989 political upheaval  with the former East Germany citizens' movement 'Democracy and Now'
And with Juli Zeh, who is a German writer, lawyer and honorary judge at the Constitutional Court of the State of Brandenburg, Germany
---
Her WIASOLA tip:
Have courage, trust your gut feeling and intuition. Accept everything as a path and permanent development. Communicate clearly. Maintain a sense of humor despite being serious. And free yourself from other people's expectations.
---
Her 4 favourite books:
Milan Kundera – The Unbearable Lightness of Being
Isabel Allende – The ghost house
Anna Gavalda – Alles Glück kommt nie / All happiness never comes
Juli Zeh – Unter Leuten / Within People
---