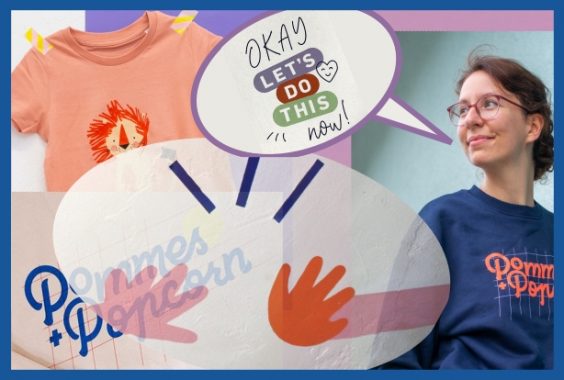 Screen printing, 'Fun' colors and 'Pop Art' graphics
How does a young Swiss woman use her creative building blocks to open up her own studio?
If you are in Frankfurt and are looking for a creative workshop? You want to design & print a T-shirt with professional support? Then contact Nina Egli who has just set up her screen printing studio in Frankfurt. There you find a mix of 'Fun' colors and 'Pop art' graphics in combination with her quirky mind set. Above all, they are also the creative building blocks that Nina uses to set up her own business, her studio 'Jakob&Tatze'.
Screen printing passion meets 'creative mind'
Nina takes her first screen printing course during her graphic design studies in Switzerland. After that it is clear to her: this is my medium to present my graphics to other people. Even 10 years later, she talks about the process with sparkling eyes:
"The absolute best thing about screen printing is that I can design a precise graphic on the computer. Using the screen printing process, I can than create a super professional print on a textile. Looking 1:1 as I designed it on my computer screen. Fine lines, accurate outlines and full color printing are the big plus for this medium. With wood printing or other printing techniques, there are always variations if you don't master it super professional.  When I print a Tshirt with 'my' colors and my own grafics and then someone wears it with joy – that's already mega cool!"
From hobby to self-employment – Step 1
Already during her studies Nina prints textiles with her own graphics. She sells them at design markets in Switzerland and later in Frankfurt. So early on she has her first customer contacts and notices what takes off. Even as an employed graphic designer in a company in Frankfurt, she makes time to continue with her printing passion. In her small 2-room apartment she converts the storage room into a darkroom to expose her print screens. Her desk is the printing table and the bathtub is used to wash out the screens. Too many things are happening in her small appartment. Next step: Nina rents a workplace in a big studio with other creatives. There she notices that she generates interest with her hobby. Often friends ask her if they can also do a screen print with her. Her Instagram account also grows during this time while she documents her work, struggles and joy.
First screen printing workshops – Step 2
And as with many important things – Nina listens to her gut feeling and considers officially offering screen printing classes. But the feeling goes hand in hand with cautious planning. As a trial she first invites a group of friends for a workshop in her apartment. The enthusiasm and feedback are great at the end of the day and Nina is now certain about the idea and her ability.
"I found it very inspiring and fulfilling to teach others. Giving them feedback on their ideas as well as professional advice on colors and graphics – mega cool. Most importantly I noticed that I am really good at it."
Workshop start … Corona … and now? – Step 3
Besides her work as a graphic designer in an agency, she offers her first courses on weekends. But after only 6 months, it's already over again – the Corona Lockdown is here!
"During this time, I also realized that it is not my dream to work as a salaried graphic designer. Luckily, the lockdown gave me time to get even more involved with Instagram. I've always posted stuff. But my way of arranging the Stories with my unique personal touch, that came across well. My graphic elements, my colors, my ideas, it stood out. Well, I noticed that the numbers of my followers were growing quickly. More and more people were interested in: Who am I! What keeps me busy and excited, what are my ideas!"
Getting serious! – Step 4
At the end of August 2021 Nina quits her job. She finds various counselling offers at the German job center. Also, she attends a coaching sessions which is installed to guide people through the first steps of self-employment work. In addition it also includes the requirement to write a business plan of how to achieve economic goals. This procerss gives Nina the opportunity to take advantage of a start-up grant from the government.
"Now I realize that I should have written 3 business plans, since my company consists of 3 building blocks. Firstly, I process print orders for other companies, secondly I print my own small 'slow fashion' collections and thirdly I offer my workshop classes."
Instagram = Business Tool  – Step 5 
In this phase, Nina also uses Instagram as a 'tool' to exchange ideas with her followers. Like Nina, many in the community are self-employed and creative people.
"Questions like: Where can I get suitable packaging material, or who knows the best place to buy paint? Minor issues are often solved very quickly through the community. I also put my inquiry of 10.000 euros on the crowd funding platform 'Startnext'. I still can't believe how many people supported me within 3 weeks. I had posted the campaign on Instagram, but I was totally blown away by how fast everything went. I was able than to refinance my six-station rotary press, among other things. At that time, I was still searching for a suitable studio. That really gave me a big headache. After a 1-year search, I was almost ready to move to the countryside."
Nina laughs! Surely that wouldn't have happened. She needs the vibe in the city and the exchange with other creative people. Then another stroke of luck. In October 2021 she finds her studio close to the city. An uprising part of Frankfurt with a fusion of old and new attracting other creative minds.
Housewarming party + pure coincidence! – Step 6
"In my business plan I had to also put down the date for the official opening of my studio. But sometimes a lot of things just happen to me, and I get lucky. At my opening party, a woman came by who has trained as a screen printer and wants to work with me here. That would be a stroke of luck if I could hire her. There are only a few people nowadays who are going through the professional training to be screen printers. Now I am clarifing the formalities. I didn't list the point 'employees' so early in my plan. But since everything is going great. Maybe I make that step sooner."
Instagram – % of daily workload!
Nina schedules a few hours a day for Instagram. Her almost 14.000 followers not only follow her enthusiastically, but everything that goes with her work happens via Instagram. She generates her orders via her account. She posts her internship offers and she announces her 'pop up' store events on Instagram. Her clients are notified about her absence or vacation time, or a delivery bottle neck.
"I also use Instagram to create transparency about my business process. Many people can't imagine why a hand-printed sweater should cost so much more money than mass-produced goods in a store. If I show them that each color is printed individually on a sweater by hand. Then the print needs to dry before the next one can be made, then ironed and folded. And of course, I also explain the preliminary work to create the graphics and screen-printing frames. If people know more about these details, then they are willing to pay the appropriate price for a sweater or T-Shirt."
Artistic collaboration 'Let's work together' – Step 7
Another way to creatively enrich her collections is to collaborate with other graphic designers. Nina is always open to spontaneous coworking.
"At one workshop, I thought a participant's motif was super cool.  So I asked her to develop this further with me. Now I also search the web for exciting people whose graphics I like and contact them. It generates great projects – with people 'known and unknown' in the 'graphic' scene."
'Handmade & designed' in Frankfurt
For her special small production runs on her organic cotton textile, Nina has an extra PLUS to offer. She documents the process photographically and prepares this as an Instagram Story.  Her customers can then use this for their own Instagram stories. What a special offer when it is executed with such joy and professional enthusiasm.
'Open ART & Meeting SPACE'!  – Step 8
Nina wouldn't be Nina if she didn't already have more plans and ideas with her mind. Maybe not yet as a business plan but the visions are already colorfully buzzing around in her head.
"Even as a child, I wanted to have my own studio! My dream is also to create a place where other creatives can rent a working desk. A large hall with a window front, so that you can look directly into the studio when you walk by. I can also imagine a small cafe, to be able to relax and to enjoy the creative environment. I still have some more ideas."
Frankfurt = Creative spot – Step 9
Nina likes living and working in Frankfurt. She is very enthusiastic about the city right now and that she has found her suitable environment here.
"There is still a lot of potential – for me and the city. It is Mega Cool that I already have achieved a certain recognition factor. This I'd love to use to make the City's creative scene more visible. I can also imagine my 'Open Space' studio for creative events, for networking meetings or as a renting space for a Christmas party. Then I can collaborate with people in other ways as well."
More about Nina aka 'Jakob&Tatze'.
On her website and Instagram account you can get a colorful impression of Nina's business and her work life. I'm excited to see what ideas she will announce around her passion for screen printing.  And whether she is already offering activities with her idea in mind: the 'Open Work & Meeting Space'.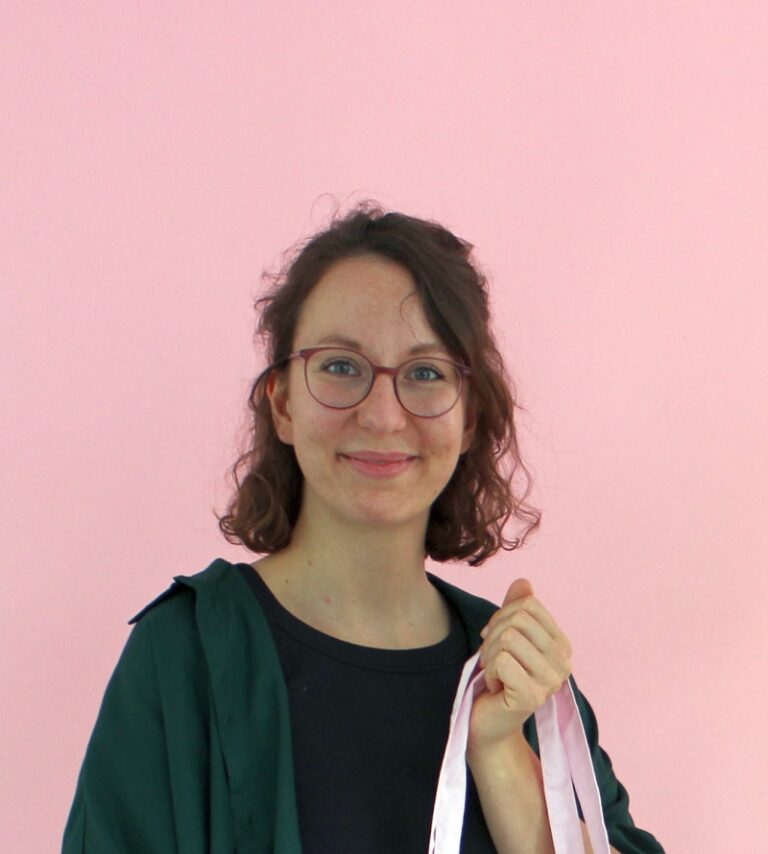 Name: Nina Egli
---
She is:
Screen printer, graphic designer, founder
---
To be found:
Frankfurt, Germany
Studio JAKOB&TATZE, Leipziger Str. 63-65, 60487 Frankfurt am Main
---
She likes:
Pancakes, picture books and bicycles as well as small special shops and cafes
---
She admires:
People who can cook really well
---
Her WIASOLA tip:
"You don't have to be a pro to start anything. Go ahead and learn along the way, step by step."
---
Her favorite podcasts:
Hotel Matze

Frisch an die Arbeit
---
Here you can see Nina in 'action' – printing a sweater: