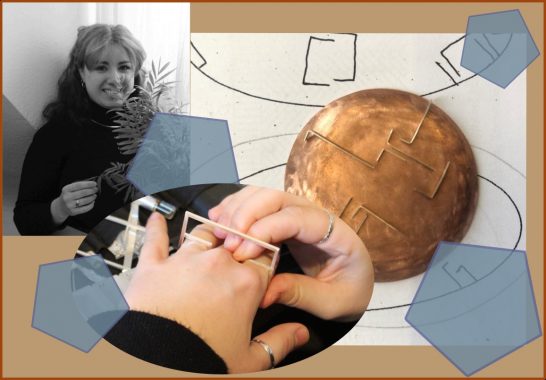 How can a small perfume bottle become a special piece of jewellery?
This is an exciting question for Noa, a goldsmith apprentice. Her creative ideas and craft skills can be seen in this unique ring.
She draws out her first ideas in her sketch book  and then decides to design a protective space around the small flacon. Noa sets herself the challenge of also designing a functional use. The bottle is held in place with 2 holders at the top and bottom of the thin silver construction and can be pushed out from there. She has blackened the silver reminiscent of the industrial style of the 80s.
Where does your passion for goldsmithing come from?
'I was very creative even when I was little. When I had an idea at night while I was already in bed, I would secretly get up and craft it out or draw it, only then could I happily fall asleep.'
As the child of an architect couple, Noa sees that manual dexterity and concentration are also part of implementing creative ideas. She knows the value of architectural models and draft drawings well. During her Highschool years, she does an internship with a goldsmith. She finds the profession exciting, but the very quiet nature of the goldsmith almost gives her the wrong impression of everyday work – too boring and too lonely!
"After graduating from high school, I did a 4-month internship with Dianne McFarlane, a New Zealand jewellery artist in Cologne. That's when it really clicked! She showed me that fun in the everyday work tasks, an inspiring en'vironment and art conversations with friends are all a part of the creative process."
Noa now benefits from her past experiences while attending the 3,5 years course at the goldsmith crafts college 'Staatliche Zeichenakademie Hanau'. The curriculum contains various artistic subjects such as drawing, art history and 3-dimensional design and of course two thirds of the time is dedicated learning the unique goldsmith craft skills such as filing, sawing, forging, and soldering, as well as using the various technical equipment and machines. During these 3 days per week Noa practices every step of a given workpiece task from scrap to perfection. All the detail, no matter how small, must fit and function perfectly together in a jewellery piece.
A technical school task jewellery piece
"This is a silver lame brooch. It weighs only 20 grams. Each lamella is sawn out of a sheet of silver. The lamellae must be placed on the bars at the perfect spacing when they are lined up. I drew the pins and bars from silver myself. We were given a maximum of 4 days in the school workshop for this task as there are many individual steps to be worked through. And we also have to take turns at the machines."
Improvisation a la Noa at Corona Lockdown!
The shutdown of all the activities at the school hit the students unexpectedly. They are overwhelmed by the situation and no longer have a day-to-day routine. There are no workshop lessons, they lost their own workplace, no access to machines for grinding, firing, and casting. They are not able to watch the master craftsmen demonstrating the specific work steps or getting immediate help while experiencing a problem. Fortunately, every apprentice needs to purchase their own toolbox with over 100 tool parts when they start their training. Noa organises an old workshop table, a gas burner and a few other equipment parts. She created her own workshop area in the living room of her mini apartment, a creative island surrounded by her plants and inspiring objects.
This is like a preview of her desire to have her own studio and workshop in the future. A space where she can develop and sell her design creations. After her apprenticeship, Noa wants to than study Product design. She is also fascinated by other objects and wants to further deepen her design and artistic skills.
For now, her next step is to graduate as a goldsmith at the end of 2022. Noa has to present her unique design and fully handmade piece of jewellery to the 'chamber of craft and trade' committee. The task is to fulfil all the historic craft requirements combined with a contemporary design. This will be rewarded with the German craft qualification certificate of calling herself officially a german goldsmith. We like to be very official in Germany!
A selection of Noa's first own designs and school task projects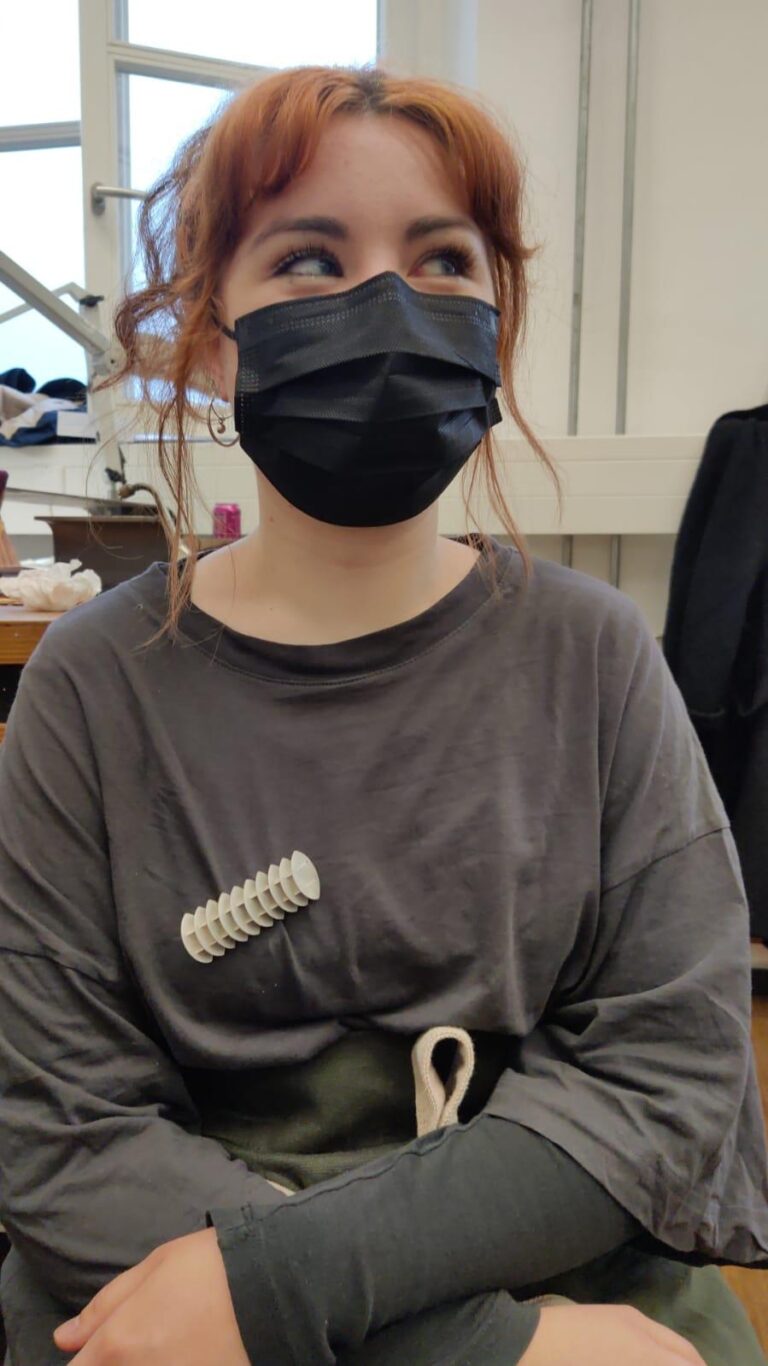 Name: Noa Ter Horst
---
She makes:
a vocational training to become a goldsmith
---
She likes:
a big 'cafe au lait' in the morning, Greece and the East-Asian Museum in Cologne, Germany
---
She admires:
Diane McFarlane – a jewelry artist from New Zealand, now living and working in Cologne. She showed me how brave and strong women can be!
---
Her WIASOLA advice:
"Try everything yourself with DIY projects – drilling, sawing, attaching a coat rack. You find out that you can do it. You don't need a man for this."
---
Her 5 favourite songs:
 Jake Houlsby  'Howl'
Little Simz  'Point and Kill'
Yael Naim  'Moment'
Dabeull  'You&I'
Johnossi  'Summerbreeze'
---