Old Craft – Contemporary Look
Inspired by an old pattern for a baby rattle, braided wicker objects are created for indoors and outdoors.
When her old teacher briefly shows various historical braiding techniques during her training, Monika is fascinated by a pattern that was used for french baby rattles. She researches further information and tries out how she can change and modify the basic principle of braiding. For her final journeywoman piece, she designs a braided room divider using her new technique. Other designs emerge from this idea and her enthusiasm for braiding with willow.
The willow objects are created from her feeling for the craft and the material. There is no standstill in her working life. She experiments with coloring peeled willow branches. The result is a silver-grey color and an anthracite. Together with the honey colour, the reddish or green tone of the unpeeled willows, bowls, garden objects and baskets are created with their own flair, which she makes in her workshop in the Palatinate.
Design awards – and 'bread and butter' work
Monika wins several design awards with the reinterpretations to her craft, most recently the 2019 'State Award for the Art&Craft Movement – Rheinland-Pfalz" for her flexible object baskets. She is delighted with the recognition and explains to me with a smile:
"That's nice, but I don't earn my basic income with it. Even though my work can be found in the shops of museums. My customers come to the markets and buy my dragonflies and garden spheres. Therefore I sit here and make 50 dragonflies for sale today. And every wing will be perfect!"
The pride of making special products with her hands, but also working carefully on her small batches, is important to her. To touch and feel the willows, to perceive the different smells, yes there are willows that smell of plums or frankincense, or honey.  Monika still enjoys these sensual impressions.
It really does exist – career selection via aptitude test
Even during her first state examination to become a teacher, Monika knows that this was not her calling. Taxidermist, that might fit. At the career information center she happens to take a job aptitude test and the result is: basket and wickerwork designer.
 "Out of curiosity, I looked at old black-and-white films there that were supposed to explain the profession. You could see grandpas weaving baskets. But something about it intrigued me. I then did an internship in a workshop for disabled people. The German system sets up these workplaces with suitable and therapeutical handcraft, working with wicker is one of them. After that it was clear to me: this is my thing."
Monika does her 3-year apprenticeship with the subsequent qualification as a master craftswoman at the world's only technical Art&Craft school for wickerwork design in Lichtenfels, Germany. The school offers her a teaching position straight away, and she reforms some parts of the education to give greater importance to design and drafting. She also starts designing and producing her handicrafts, selling them at fairs and markets.
Back home in the Palatinate area – what now?
Monika is drawn back to the Palatinate, but for her job she needs a workshop and a storage room. As a stopgap, the living room and basement of her first house are converted into a studio.
"Luckily, I had the opportunity to move into my current workshop very soon. The former hall of the village fire brigade, the wine cellar of the neighbouring winery and the old premises of the village kindergarten on the 1st floor of the building are now my home. Early in the morning I take my dogs for a walk through the vineyards, which is a special experience at any time of the year. At lunchtime I feed my chickens and ducks in the garden – I'm my own boss."
Tür zur alten Feuerwehrgarage des Dorfes
alter Weingewölbekeller zum Einweichen der Weiden
That sounds very idyllic. But Monika is on the road many weekends from April to November. She packs her van full of wickerwork, travels to craft fairs all over Germany and sells her work. Locally, she uses the time to go to a museum and visit friends, enjoying the creative exchange.
German artisan expertise is in demand
In the summer of 2021, she gets a request from an agency to make an installation of woven willow objects in the castle for the centenary celebration of the 'Burgenland' in Austria. For a long time, basket weaving was a major source of income for the inhabitants, and this should be presented in the exhibition. Since there is no longer a new generation of basket makers in Austria, the commission goes to Monika.
"The objects with stylised themes, such as the 5m-long fish or the sun disk with a diameter of 2m, I could not have managed alone in the given 6 working weeks. Luckily, I have my network of colleagues. Five of us designed and wove the 12 large objects. It was already difficult to organise enough willow material. There are hardly any willow farmers left and the material can only be harvested until the end of March. At the exhibition opening, everyone was very impressed with how the willow objects gave the huge hall a special ambience."
Crafting and philosophising – a perfect match
While Monika works on the dragonfly wings, she reflects on her work situation, the satisfaction of working with natural materials, of putting something from nature back into nature.
"I am not a person who puts security first. I can get by with less money sometimes. Even during the Corona crisis, I only briefly thought of taking a permanent job with a company to be secure. But then I told myself that things would work out. The special thing about my work is that only people who like my work come to me. They give me positive feedback directly. I know that many people with other professions never get this direct recognition, often only criticism or rejection!"
And when a customer doesn't understand the price of her handicraft, Monika takes it with humour and explains that she would still have to charge heavy labourers' allowance, as she also works on her knees and her hands are often cracked and bloody from the stiff willow rods.
"One of these clients than booked a workshop weekend with me 6 months later to find out how strenuous my job is. At the end of the day, he told me he would never negotiate a price with a basket maker again."
What is your dream for your future?
"First of all, I hope to stay healthy. As a self-employed craftswoman, I can't afford great health insurance. If I'm sick, there's no compensation for me. But so far everything is good!"
Monika has a dream and a plan. But that is still a secret. There is another country that appeals to her as a place to work. Her big smile pops up again and enthusiasm for her craft can be felt.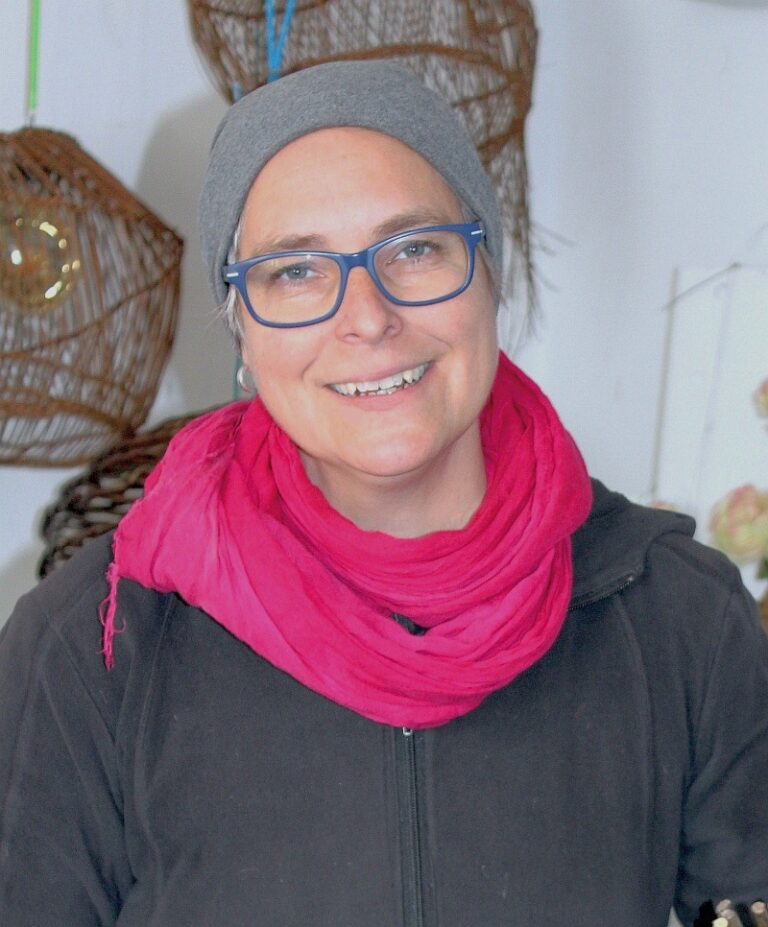 Name: Monika Nickel-Stein
---
She is:
Basket and wickerwork designer & artisan
---
Her studio and workshop is in:
Kindenheim – a small village in the Palatinate, near the German 'Weinstrasse', a famous Wineyard area, south of Frankfurt and north of Heidelberg
---
She likes:
early in the morning a coffee – with a view of the Palatinate vineyards, of course the Palatinate and the Vitra Museum in Weil am Rhein, Germany
---
She admires:
Her mother, who as a young woman moved to a country completely unknown to her – Indonesia. Founded a family there and raised a total of 7 children full-time.
---
Her WIASOLA tip:
"Go for the profession you think is good and try it out. You! can only find out what suits you best."
---
Her 5 favorite Musicians:
Misty Edwards
Django Reinhardt
Titi Winterstein
Rabih Abou Khalil
Jan Delay
---
Monika Nickel
Studio: Flechtwerkgestaltung
Hauptstrasse 40
67271 Kindenheim  – Pfalz
This is a very famous wineyard area in Germany – just a short drive south of Frankfurt or north of Heidelberg, Germany.
Favorite Museum:
Vitra Design Museum, Weil am Rhein, Germany, near the Swiss border
The only European Art&Craft school for Wicker work and Design: